Rubber Hoses
We manufacture and supply exceptional variety of hoses that are highly demanded for various automobile, industrial and commercial purposes. keeping the demands of our clients in mind, we are offering hoses in different types such as straight, elbows, straight reducer, elbow reducer with & without polyster fabric /reinforcement etc for RADIATOR, BRAKE, HEATER, SUCTION, TURBO CHARGER, ENGINE, OIL, WATER, AIR, FILTER. These includes polymers like NATURAL RUBBER (NR), STYRENE BUTADIENE RUBBER (SBR), POLY BUTADIENE RUBBER (BR), CHLOROPRENE (NEOPRENE, CR), ACROLO NIT RILE BUTADIENE RUBBER (NBR), EPDM, BUTYL RUBBER, HYPALON AND SILICON RUBBER.
Silicon Hoses
Suitable for cooling systems, charge air systems and induction systems. With its temperature range Stability, Flexibility, Longevity, Thermal, and Electrical Insulation Properties, Silicon Polymers are a modern miracle of engineering material science.Manufactured from premium quality raw material, silicone hoses are used for high performance applications such as turbochargers. These hoses can withstand wide temperatures ranging from -40°c to 300°c.
Plane Hoses With & Without Reinforcement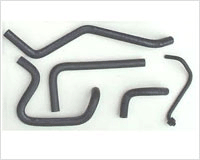 Produced from EPDM /NT/NEO/VITON/ECO/ACM/PVC to withstand temp up to 200°c.the reinforcement can vary depending on temperature & pressure requirement. The reinforcement can be REYON,POLYSTER,COTTON. The inner tube & outer cover material may vary for (ex: Inner Nitrile & Outer Neoprene ). Hoses are commonly used in Radiator & Engine Application.
Molded Hose
Asean Rubber provides its customers engineered solutions for molded hoses for applications across various industries. Asean Rubber Molded hoses are custom designed for each applications factoring in hose path, pressures or vacuums and environmental factors to ensure performance specifications are met. These hoses are specifically designed and manufactured in a wide range of materials and configurations depending on the function of the hose. Asean Rubber knowledgeable staff has extensive experience in helping select the right materials needed to meet customer specifications. Asean Rubber molded hoses are manufactured to a specific configuration and shape based on the hoses path.
Wire Embedded Hose / Wrapping Hose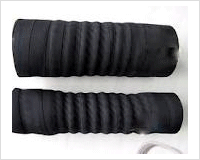 Hoses required for Suction & Discharge application & greater flexibility than standard hose. Any critical profiles which cannot be manufactured with smooth outer cover process, are manufactured by this process. Steel wire spiral is used for reinforcement. These hoses are made from an oil & weather resistance compound.