Anti Vibration Mountings Manufacturer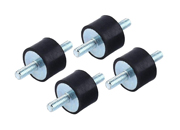 An anti-vibration mounting is a flexible support for an engine that reduces the amount of noise and vibration that passes to the vehicle chassis. A highly important function of an anti-vibration mounting is to reduce noise.Isolating engine vibrations from the main body of the car is usually achieved by the use of rubber anti-vibration mountings.Systems where rubber is bonded to metal are the most common types of anti-vibration mountings.
What is Anti Vibration Mountings ?
Anti vibration mounting is a flexible support for the engine that reduces noise and vibration toward the vehicle chassis. Anti vibration mounts, also known as AV mounts, are a major component of noise and vibration reduction in heavy machinery and equipment. They absorb vibrations and noise in the machine to reduce wear and damage. Anti vibration mounts are low cost, highly effective components with a wide range of uses. Anti vibration mounts should always be considered as one of your HVAC components or part of an industrial generator and not just large machinery but a simple data cabinet, appliances and computers. In any mechanical equipment, excessive vibration can shorten parts, floors, operator discomfort a machine life. To avoid this damage, it is important to isolate the vibrations to keep the machines running longer. Anti vibration mounts are a great way to isolate and absorb large amounts of vibrations in a variety of applications. Rubber products are used as a kind of isolation to absorb vibrations and prevent them from being transferred to the surrounding parts of the machine. They are called anti vibration mounts and are used in various categories of industrial applications.
A highly important function of an anti vibration mounting is to reduce noise. Rubber anti vibration mounting is used in a wide range of applications where the main purpose is to eliminate harmful vibrations and reduce noise and absorb shock. The high internal insulation properties of rubber make them suitable for anti vibration mounting. each application is different, but different industries have common problems affecting all types of machinery and equipment. Vibration, impact loads and noise can be important considerations in most environments and a common way to reduce these factors is to use vibration isolation mounts. Anti vibration mounts are made of rubber or a mixture of rubber and other materials. The advantage of combining rubber with steel is that it enables easy mounting and provides a durable solution for effective vibration absorption. They are attached to your machine and can be used for compression. While your machine is in use, the mounts absorb and dampen vibrations, which significantly reduces the impact of sound-like vibrations. These mounts have the capacity to absorb a large amount of energy. They also reduce the noise that the vibration machine creates during functioning, resulting in the smooth and quiet running of the machine. Rubber is the best material for isolation and vibration absorption. There are different types of rubber available in the market, so you need to choose the right rubber depending as per the use. Their superior quality raw material ensure that anti vibration mounting keep that flawless standards and an uninterrupted performance during their usage.
Types of Anti Vibration Mountings
Because of the significant contribution of these vibration reducing mounts, it is important to have the right type of mount based on your application. These products come in different shapes and sizes so they can fit in different machines and last longer in challenging environments and weights. Some of the main types of vibration-absorbent mounts are as follows:
Cylindrical mounts

Conical Mounts

Bushing mounts

Technical Mounts

Leveling Mounts

Sandwich mounts
Properties of Rubber Anti Vibration Mountings
Withstand the extreme operating environments.
Resistance to oils.
Resistant to surface abrasion wear and sunlight exposure.
Withstand large temperature fluctuations.
Radial elasticity greater than axial elasticity.
Easy to Fix.
A wide variety of dimensions is available.
Advantages of Rubber Anti Vibration Mountings
Many machine users are reluctant to invest in anti-vibration mounts because they believe they are a complete waste of money. The truth is that such mounts are really easy and offer excellent value for money. Here are some of the main benefits listed for implementing the mounts.
High frequency vibrations are absorbed by mounts in many applications, including HVAC, compressors, turbines, motors and engines.
Some are built to withstand low frequency vibrations especially. Food production, computers, pharmaceuticals, textiles, and metrology are among the company stand to benefit from these.
The majority of mounts combine heavily loaded rubberized and steel plates. This method allows easy installation, good sound and vibration absorption and its durability.
Machinery has interactions or rotating parts depending on its structure, creating some degree of vibration due to imbalance of moving parts. With the increasing sophistication of industrial setup and machinery, the need for vibration and noise control is increasing. We are proud to offer anti-vibration mounts as part of our product range to meet this evolving need of our customers. We offer high-quality anti vibration mounts manufacturers in Pune, India and international markets that are designed to help reduce the transmission of mechanical vibrations to other non-insulated neighborhood structures, which can cause noise and vibration transmission problems. We are the best Anti Vibration Mountings product Manufacturer in pune to know more about our rubber products contact us now.